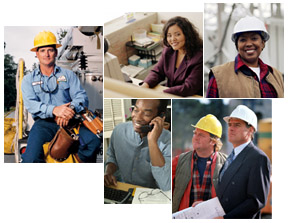 Cashier/Receptionist
1. POSITION FUNCTION:
To provide for the pleasant, courteous and informed reception of all people who visit or contact the Cooperative, to perform the necessary steps in handling of cash to assure accurate accounting of transactions and to provide office services as needed.
2. RESPONSIBILITIES AND AUTHORITIES:
 Within the limits of approved board policies, operating guides and procedures, assumes responsibility and has commensurate authority for the following activities:

 Greets persons visiting the headquarters building and receives incoming phone calls.  Determines the information or service being requested and directs the person to the appropriate employee or takes messages as needed to promote the organization's goal of service excellence.

 Assists with the receipt, coding, and keying of payments from members for electric operations to insure that member accounts are properly credited, and to insure that funds are deposited on a timely basis.
Assists with the preparation of member mailings including membership applications and new member packets.
In addition to these responsibilities, may be assigned by the Director of Administration & Finance to perform other duties from time to time.
3. REPORTING RELATIONSHIPS:
Reports to:  Director of Administration & Finance
Responsible for:  Non-supervisory position
4. POSITION SPECIFICATIONS
EDUCATION: High school diploma or equivalent required.  Associate degree in business administration or secretarial administration preferred. 
JOB KNOWLEDGE:  Must have a thorough working knowledge of general office practices, record keeping and computers.  Knowledge of rural electrification and cooperative/member owned programs (rates, billing and collection policies and other policies affecting customers) helpful.
ABILITIES AND SKILLS:  Should have considerable skill in effectively dealing with a variety of people under difficult circumstances.  Should be able to handle and transmit information over the phone.  Must have ability to express oneself orally and in writing and to work with people.  Must have ability to operate a phone system.  Must have the ability to type with speed and accuracy sufficient to complete assigned duties.  Ability to project a favorable image for the Cooperative.  Ability to multitask.
WORKING CONDITIONS:  Inside position with the usual office conditions.  Normally have regular hours of work with irregular volume of activity.  Some overtime may be required.
PHYSICAL REQUIREMENTS:  Sedentary work requiring exertion of up to 50 pounds of force occasionally and/or a negligible amount of force frequently.  Occasional lifting of generally 50 pounds or less.  Job requires sitting most of the time. Requires repetitive motions with hands and fingers such as dialing and keyboarding.  Primarily inside work at a desk.  Must be able to use office equipment such as a copier, fax machine, adding machine/calculator, computer and printer.  Must be able to communicate to individuals. Must be able to read, write and do arithmetic.  Requires analyzing data and reports, conducting research.  Must be able to present information to others and work under stressful situations.
Apply with the following by March 20th, 2020 at 4:00 P.M.
Send cover letter and resume
Send high school and college transcript(s) as applicable
Send two (2) professional reference letters
Mail or deliver to:
               Bree Hileman, Director of HR & Administrative Services
               Southern Illinois Electric Cooperative
               PO Box 100
               Dongola, IL 62926
               NO PHONE INQUIRIES PLEASE
An Equal Opportunity Employer